BREAKFAST | LUNCH | DINNER | BRUNCH | DESSERT | KIDS | COCKTAILS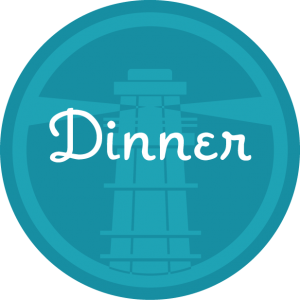 HAPPY HOUR!
• Select Lighthouse Wines by the Glass
• Domestic & Imported Beers
• Appetizers
MONDAY-FRIDAY 3-6PM
ALSO JOIN US WEDNESDAYS! … "NO CORKAGE" ALL DAY LONG

Shareables
WARM SOURDOUGH BOULE
Roasted Tomato Butter
CRISPED BRUSSELS SPROUTS
Chorizo de Bilbao, Caramelized Shallot Sherry Gastrique
SLOW ROASTED GARLIC HUMMUS
Fresh Crudité, Garlic Parmesan Pita Chips, Everything Spice, Smoked Paprika, Yuzu Kosho Aioli
PARMESAN SPINACH DIP
Fresh Spinach, Cream Cheese, Toast Points
LOBSTER MAC AND CHEESE
Lobster Claw & Knuckle, Ditalini Pasta, Three-Cheese Blend
CHEESE & CHARCUTERIE BOARD
Ask your Server for Daily Selections: 3 or 5 Choices

Soups & Salads
NEW ENGLAND CLAM CHOWDER
Bacon & Chives, Oyster Crackers
SOUP OF THE DAY
Chef's Daily Creation
PETITE SALAD
Mixed Greens, Baby Peppers, Sundried Tomatoes, Cucumber, Vinaigrette
THE LITTLE GEM CAESAR
Lemon Bread Crumbs, White Anchovy, Pecorino Romano, Roasted Garlic Caesar
THE NEWPORT
Baby Gem, Toasted Almonds, Tangerines, Goat Cheese, Honey-Sesame Vinaigrette
ADD TO ANY SALAD
Chicken, Skirt Steak, Salmon or Shrimp

Mains
from the Sea
BLACKENED SHRIMP TACOS
Lemon-Oregano Slaw, Pico de Gallo, Avocado Mousse, Petite Salad
NEW ENGLAND LOBSTER ROLL
Lobster Claw & Knuckle, Tarragon Aioli, Wasabi Caviar, Parmesan Herb Fries
HALIBUT FISH & CHIPS
French Fries, Tartar, Lemon
PAIRS PERFECTLY WITH A COLD DRAFT BEER.
SPAGHETTI DIABLO SHRIMP PASTA
Spicy Tomato Sauce, Spanish Chorizo, Baby Peppers, Basil
PAN ROASTED ATLANTIC SALMON
Mashed Potatoes, Garlic Spinach, Citrus Beurre Blanc
ROASTED PETRALE SOLE
Sautéed Green Beans, Mashed Potatoes, Brown Butter Caper Sauce
from the Land
BBQ CHICKEN
Garlic-Herb Potatoes, Jumbo Asparagus, Demi-Glace
GRILLED DUROC PORK CHOP
Bourbon Raisins, Cheesy Grits, Mustard Greens, Apricot-Apple Mostarda
THE LIGHTHOUSE BURGER
House Blend Patty, Fontina Cheese, Pickles, Caramelized Onions, Demi-Glace Mayo, French Fries, Mixed Greens Salad
ADD AVOCADO OR BACON!
THE HARBOR SPECIAL
4 oz Grilled Petite Filet Mignon, Sauce Demi-Glace, Petite Salad, Choice of Soup
FILET MIGNON
Grilled 8 oz Filet Mignon, White Rose Potatoes, Jumbo Asparagus, Demi-Glace
CAULIFLOWER "FRIED RICE"
Soy Marinated Tofu, Peas, Carrots, Sweet Chili-Sesame Sauce, Shishito Peppers
DOWNLOAD THE LIGHTHOUSE CAFE DINNER MENU PDF

BREAKFAST | LUNCH | DINNER | BRUNCH | DESSERT | KIDS | COCKTAILS