WEEKDAY BRUNCH | DINNER | WEEKEND BRUNCH
DESSERT | KIDS | COCKTAILS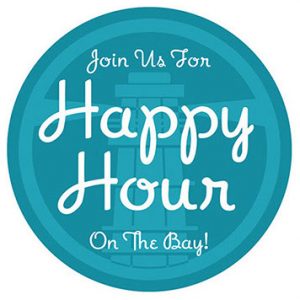 Join Us for Cocktails!
OUR HAPPY HOUR IS 3PM – 6PM WEEKDAYS
• $2 Off All Regularly Priced Cocktails & Wines By The Glass
• $4 Draft Beers
• New Appetizers, Tacos & Burger!

Martinis
LAVENDER LEMON DROP
Citrus Vodka, Lavender Simple Syrup,Lemon Juice
BREAKFAST AT TIFFANY'S
Vodka, White Cranberry Juice, Fresh Lemon Juice, Blue Curacao
BIKINI SUNSET
Coconut Rum, Vodka, Pineapple Juice, Grenadine
COLD BREW MARTINI
Kahlua, Baileys, Cold Brew Coffee, Chocolate Bitters
Specialties
BOURBON RENEWAL
Bourbon, Lemon Juice, Crème de Cassis, Simple Syrup, Bitters
OLD FASHIONED
Redemption Rye, Turbinado Sugar, Bitters
THE BAYVIEW
Cruzan and Gosling's Rum, Orange, Pineapple, Orgeat, Simple Syrup, Crème de Cassis
BOURBON SMASH
Muddled Clementines, Bulleit Bourbon, Aperol, Cinnamon
Margaritas
CADILLAC MARGARITA
Casamigos Tequila, Fresh Squeezed Lime Juice, Agave, Grand Marnier
BLUE OCEAN MARGARITA
Giro Tequila, Fresh Squeezed Lime Juice, Agave, Blue Curacao
BLOOD ORANGE MARGARITA
Tequila, Solerno Blood Orange Liqueur, Agave, Citrus
SPICY MANGO MARGARITA
Casamigos Tequila, Lime, Agave, Jalapeño Juice, Chamoy, Mango Puree
Mojitos
SPICED MOJITO
Sailor Jerry's Rum, Spiced Syrup, Ginger Beer
STRAWBERRY MOJITO
Rum, Strawberries, Mint, Lime Juice, Simple Syrup, Soda Water
Mules
MOSCOW MULE
Svedka Vodka, Ginger Beer, Mint, Soda Water
RUBY RED GRAPEFRUIT MULE
Deep Eddy Ruby Red Grapefruit Vodka, Fresh Squeezed Lime Juice, Ginger Beer
Try a Buddy's Bloody!
An OVERSIZED BLOODY MARY that's SERVED in a
MASON JAR! It's LARGER THAN LIFE!
Just like the LEGENDARY LIFEGUARD that patrolled the
BEACHES OF NEWPORT for 47 years!

Featured Wines
DA LUCA PROSECCO
Prosecco, Italy
CHARLES LAFITTE SPARKLING ROSÉ
Champagne, France
TOAD HOLLOW UNOAKED CHARDONNAY
Sonoma County
FERRARI CARANO CHARDONNAY
Sonoma County
OROGENY CHARDONNAY
Russian River Valley
KIM CRAWFORD SAUVIGNON BLANC
Marlborough
MEIOMI PINOT NOIR
Santa Barbara
TURLEY "OLD VINES" ZINFANDEL
California
JUSTIN CABERNET
Paso Robles
DAOU RESERVE CABERNET
Paso Robles
PESSIMIST RED BLEND
Paso Robles
THE PRISONER RED BLEND
Napa
SILVER OAK CABERNET
Alexander Valley

Draft Beers
SLO BREW
Hazy Honey Blonde 4.5%
TOWNE PARK
Mexican Lager 4.7%
DOCENT
Hoppy Rotation, Ask Your Waiter
STONE
Delicious IPA 7.7%
Bottled or Canned Beers
BUD LIGHT
Light Lager 5%
CHIHUAHUA
El Primero Mexican Lager 5.0%
STONE
Tropic of Thunder Lager 5.8%
HANGER 24
Orange Wheat 4.6%
PIZZA PORT
Chronic Amber Ale 4.9%
CIGAR CITY BREWING
Maduro Brown Ale 5.5%
21st AMENDMENT
Brew Free or Die!
Blood Orange IPA 7.0%

Vodka
Grey Goose
Absolut Elyx
Deep Eddy
Deep Eddy Ruby Red Grapefruit
Svedka Citron
Rum
Goslings Black Seal
Curzan White
Malibu
Sailor Jerry's
Tequila
Casamigos Blanco
Casamigos Anejo
Giro Silver
Los Sundays Reposada
Gin
Bombay Sapphire
Beefeater
Whiskey
Jameson
Redemption Rye
Nikka Coffey Grain
Bourbon
Bulleit
Angel's Envy
Basil Hayden's
Wild Turkey 101
Wild Turkey Rare Breed
Maker's Mark
Russell's 10
Scotch
Johnny Walker Black
Glenlivet 12
Aberlour A'bunadh Barrel Proof
DOWNLOAD THE LIGHTHOUSE CAFE COCKTAILS MENU PDF

WEEKDAY BRUNCH | DINNER | WEEKEND BRUNCH
DESSERT | KIDS | COCKTAILS